Melasma is a skin disorder around 6 million Americans suffer from it every year. It can affect anyone, unfortunately, women with dark complexions suffer more from melasma as it is related to female hormones. Melasma is common in the women's age group of 20-50 years.
Melasma dark patches are brown to gray. They can occur in the following part of the body.
Nose
Upper lips
Cheeks
Forehead
Chin
Causes of melasma
It is still not clear what causes melasma. People who have a dark complexion are at greater risk of it. than those with fair skin. progesterone and estrogen sensitivity are also associated with the condition. Birth control pills, pregnancy, and hormone therapy can all trigger melasma. thyroid and Stress conditions are also said to be causes of melasma.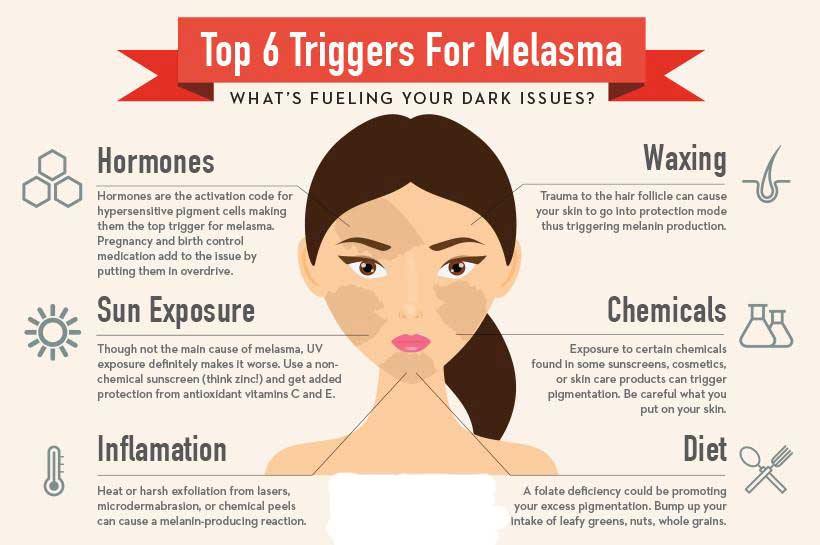 Known factors of melasma
Drugs (phenytoin)
Pregnancy
Exposure to ultraviolet radiation
Thyroid disease
Genetic
Hormonal factors like female sex hormones.
Beware from dangerous skin-lightening scams
Many times women are suffering from melasma are desperate to get rid of melasma and improve their condition, they search online for immediate treatment, Hyperpigmentation is a big money-making industry, Says Dr.Shadi Kourosh, Director of pigmentary disorder and multi-ethnic skin clinic at Harvard-affiliated Massachusetts general hospital.
Most of those products are not effective and are worst plus unsafe to use, FDA has not approved any injectable products for skin lightening and whitening but still, some agencies are selling injectable products online Beware them.
Aloe Vera for melasma
A 2017 medical study done on pregnant women with melasma found that using topical, liposome-encapsulated aloe vera preparation significantly helped to improve their melasma.
Zinc for melasma
If your blood has a low level of zinc then your chances of getting affected with melasma are higher. zinc deficiency can lead to the pathogenesis of skin disorder.
Eat foods which contain zinc or take zinc supplement after consulting your
doctor, List of foods that are rich in zinc.
Eggs
Shellfish
Whole grains
Legumes
Meat
Nuts and oilseeds.
Zinc is the best vitamin to prevent ultraviolet rays too.
Lemon Juice for melasma
Lemon contains astringent properties that help to lighten the grey-brown patches from the skin. lemon is an acidic liquid that helps to remove the outer layer of the skin, therefore it eliminates the layer of hyperpigmented skin.
How to use it?
Take one lemon and crush it
apply its juice to the affected area
gently rub for 10 minutes
repeat this thrice a week
Stop it until you get relief.
Turmeric for melasma
Turmeric is an ancient home remedy used for many health problems including skin disease.
Turmeric contains antibacterial properties. it is a tested remedy for melasma. the active ingredient contains in turmeric has powerful antioxidant and skin lightening properties, turmeric also helps to reduce melanin pigmentation.
How to use
Take 5 tablespoon turmeric
take 10 tablespoons of milk
Take 1 teaspoon of gram flour
Make a thick paste
Apply the paste to the affected area.
let it dry
Rinse your skin with lukewarm water Repeat this daily until you get the best result.
Sandalwood for melasma
Sandalwood is widely used in cosmetics for skin whitening. Sandalwood contains essential oil which helps to enhance skin complexion and lightens melasma spots and blemishes.
how to use?
take 1 tsp sandalwood
take 1 tsp Whole milk
take 1 tsp Lemon juice
take 1 tsp turmeric powder
Make a thick paste
apply to the affected area
Gently rub for few seconds
allow it dry.
remove the mask with help from water
repeat 4 times a week
stop it until you get relief.
Apple cider vinegar
ACV contains acetic acid which is also called a powerful bleaching agent, it helps to remove skin spots and make the skin radiant and glowing.
How to use
Take 2 TSP ACV
1 cup Water
Apply them on affected
Let it dry
Wash it and repeat daily one time stop until getting relief.
Papaya for melasma
Papaya has multiple health benefits for human skin. One of the best home remedy for melasma,
Papaya has an enzyme that removes dead and damaged skin cells. Papaya helps to restore the natural color of the skin.
How to use
Take a few pieces of papaya
Take 1 tsp organic honey
Make a thick paste
Apply on the affected area
leave it for 20 minutes
Wash it with lukewarm water
Repeat thrice a week.
Stop after you get relief.
Licorice root for melasma
Licorice root is a great skin-whitening agent. A medical study was conducted and found that
licorice root is 16 times more effective than hydroquinone when compared to the treatment of melasma..licorice root contains 'glabridin' properties which are effective for melasma treatment.
This Property helps to fight oxidative stress and treat damaged skin.
how to use?
Take 2 tablespoon licorice powder
1 tablespoon lemon juice
1 tablespoon honey
make thick paste
apply on the affected area
allow it to dry
wash after 15 minutes and pat dry.
Repeat thrice a week until you get relief.
Drink enough water
Water flushes out the dead skin cells and pigmentation from the body, water also hydrates the skin.
Drinking water is the best and easy way to flush out toxins from the skin and body. Drink atleast 8 to 10 glasses of water every day this will help for the better treatment of melasma.
Onion juice for melasma
Onion juice is a simple and effective home remedy to bring back natural skin tone. Onion juice contains sulfur compounds like sulfoxides and cepaenes that may help to remove dark patches on your skin. onion juice provides nourishment to the skin cells resulting in brighten your skin.
how to use?
Take 1 half-cup onion juice
take 1 half cup apple cider vinegar
mix it well
Apply on the affected area
let it dry for 15 minutes
wash with lukewarm water
Repeat thrice a week.
Antioxidants
antioxidants-rich foods help to eliminate free radicals from the skin that causes damage and skin issues like melasma.
Try to include the following antioxidant-rich foods in your daily diet.
Dark chocolate with cocoa up to 60%
Berries
Goji berries
Onions, garlic
seafood
Strawberries
Red cabbage
Kale
Beans
Beets
Spinach
Polypodium leucotomos
Polypodium leucotomos are also called calaguala anapsos in central and south America. A 2014 review of the literature found that if you polypodium leucotomos orally it may help to reduce the melasma symptoms, However Medical experts did not include the recommended dosage.
Sun protection
You need to protect your skin from direct sunlight, wear sunscreen every day, the best option is wearing a wide-brimmed hat when you are out of the home.
Ascorbic acid
Ascorbic Acid contains antioxidants that affect melanogenesis, a common disorder caused due to excess production of melanin by the enzyme tyrosinase. Ascorbic acid hinders the action of the enzyme and helps to reduce skin pigmentation. it decreases the consumption of ultraviolet radiation and decreases oxidative stress.
Medical Research reference links
https://www.medicinenet.com/melasma/article.htm
https://www.healthline.com/health/melasma-home-remedies
https://www.nykaa.com/beauty-blog/the-best-home-remedies-for-hyperpigmentation/
https://www.aad.org/public/diseases/color-problems/melasma
https://www.medicalnewstoday.com/articles/323715.php
https://www.health.harvard.edu/womens-health/unmasking-the-causes-and-treatments-of-melasma