Lifestyle Changes Women Can Make to Prevent Ovarian Cancer
September Is Ovarian Cancer Awareness Month
This September has been designated as Ovarian Cancer Awareness month across the United States. Thousands of women are diagnosed with this traumatic condition each year, and in honor of those fighting for their lives against ovarian cancer, it is important that grandmothers, mothers, and their daughters all know the facts and what can be done to prevent it.
The Facts About Ovarian Cancer
Ovarian cancer ranks 5th in cancer deaths amongst women
14,000 women die each year from ovarian cancer
Only 15% of ovarian cancers are diagnosed at stage 1
A Pap test doesn't detect ovarian cancer
Who Is At Risk?
There is no single known cause of ovarian cancer. However, there are several risk factors associated with the disease, some of which are based on an individual's biological makeup, while others relate to environmental or lifestyle factors. The most common of which has to do with genetics. Certain mutations in a woman's genes, such as BRCA1 or BRCA2, have been associated with the development of malignant ovarian tumors. Also, a hereditary condition known as Lynch syndrome has been linked to a higher risk of ovarian cancer. Other known links to this cancer include lifestyle factors such as cigarette smoking, poor diet, and obesity — all of which dramatically heighten the possibility of being diagnosed at some point during one's lifetime. Other contributing risks include:
Progression of ovarian cancer
Environment: Medical studies have linked ovarian cancer and talcum powder, particularly when used in the genital area. Thousands of lawsuits have been filed by women whose ovarian cancer was caused by talcum powder. Other environmental factors that can increase risk include the use of pesticides and herbicides.
Ethnicity: Studies have shown that those with an Eastern European or Ashkenazi Jewish background tend to have a higher incidence of BRCA gene mutations, which puts them at a higher risk of developing ovarian cancer.
Family History: Women whose mothers, sisters, aunts, or grandmothers had ovarian tumors are more likely to develop cancer.
Most Common Symptoms
Many women will mistake the early onset signs of ovarian cancer for symptoms that are common with menstrual bleeding such as bloating, pelvic, or abdominal pain. If these symptoms persist, consult your doctor immediately. Other signs include trouble eating or feeling full quickly, fatigue, upset stomach, back pain, pain during sex, or constipation.
Why is Ovarian Cancer Commonly Misdiagnosed?
The onset of symptoms and issues associated with the surface in cases of ovarian cancer are common to more benign conditions such as ovarian cysts. As previously mentioned, you may experience bloating, abdominal pain, and a lack of appetite in the early stages of this disease. These symptoms are likely to be misdiagnosed by a doctor as a stress-related or a digestive disorder. Besides, many women along with their doctors may assume these symptoms are due to their monthly cycle. Listen to your body, and do not be afraid to visit a doctor if you don't feel that your symptoms are contributed to your period.
What Can Be Done to Reduce Your Risk
If you're feeling worrisome about your chances of developing ovarian cancer, don't worry, there are several lifestyle changes you can make to help reduce your risk. Age also plays a considerable role in ovarian cancer. Approximately half of all women who are diagnosed with ovarian cancer are age 63 or older. However, it is still important, regardless of age, to follow these guidelines to protect your reproductive health in the long term.
Birth Control: Your risk of developing ovarian cancer can be reduced by 50% if you take birth control pills consistently for 5+ years
Get Screened: Visit your Ob-Gyn or local physician to get screened for genetic factors including BRCA1 and BRCA2. *Women should note that PAP tests DO NOT screen for ovarian cancer, but cervical cancer.
Adjust Your Diet: Eat cancer-fighting foods rich in vitamin A, D & E such as leafy greens, eggs, beans, nuts, sweet potatoes, carrots, and omega-3 fatty acids
Pregnancy: Women who become pregnant tend to have a lower rate of ovarian cancer than those who never become pregnant or who experience fertility problems.
Surgery: Tubal ligation and hysterectomy procedures have both been linked to a lower risk of developing tumors in the ovaries. These procedures should not be taken lightly and should only be performed after numerous medical consultations.
Environmental: Avoiding the use of products such as talcum powder, herbicides, and pesticides could lower the risk of developing ovarian cancer.
A good diet may aid ovarian cancer survival
Acupuncture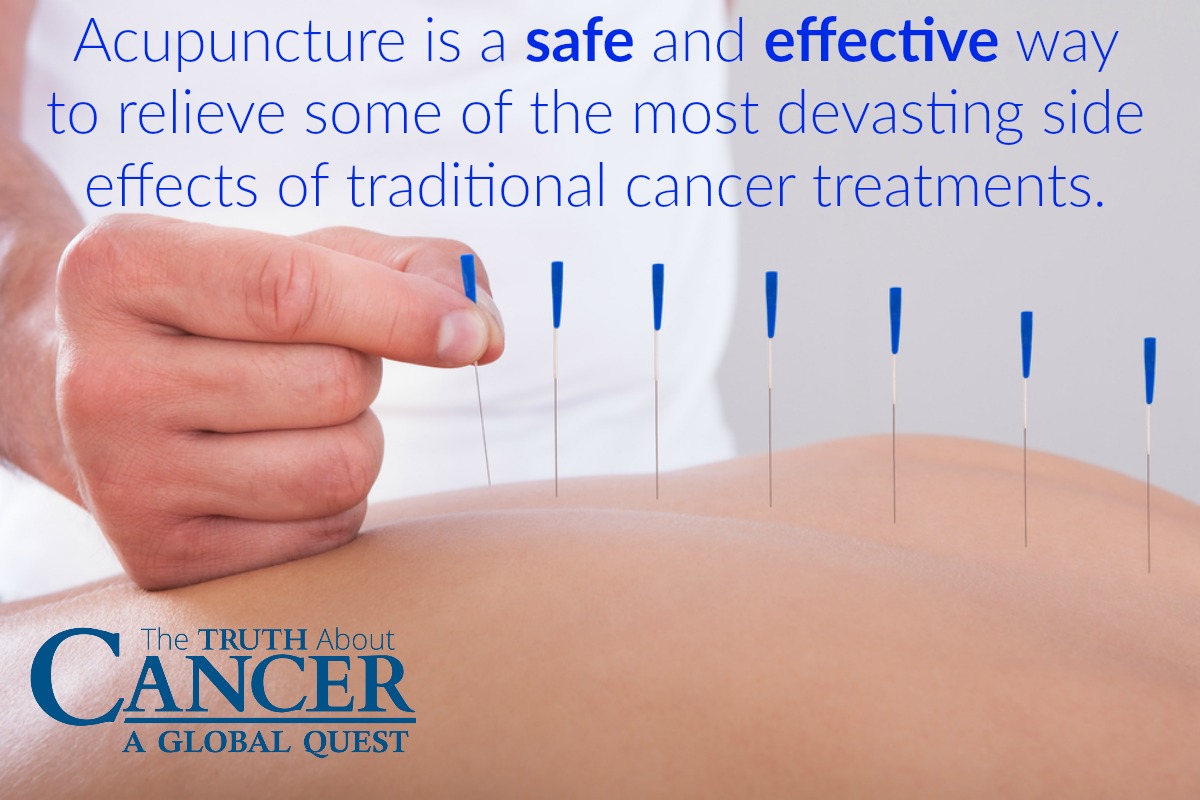 Many experts have said that one of the most effective treatments when attempting to manage chemotherapy-associated nausea and vomiting is acupuncture. Acupuncture, a needle-based therapy used in traditional Chinese medicine has also been shown to significantly improve general fatigue, physical fatigue, activity, and motivation in chemotherapy patients.
Massage Therapy
Many forms of massage could help relieve pain and anxiety and improve sleep among people undergoing chemotherapy or radiation therapy.
Herbs and Supplements
Scientists have found that ginger may help alleviate stomach upset among people undergoing chemotherapy. Zinc may help prevent taste changes, a common side effect of radiation, and some pain medicines. And glutamine has been found to dramatically reduce peripheral neuropathy (weakness, numbness, or pain in the limbs) and mouth sores.
Consume Bland Foods
Foods such as crackers in small quantities have been determined to be the best ailment to combat vomiting and nausea. Through their ability to relax the stomach and body, simple and sometimes tasteless dry foods can give you the nutrients you need without any digestive issues.
Best green tea to fight cancer
Ginger Root Tea
Ginger, as previously mentioned, has been shown to help fend off nausea and vomiting, it can also help to stimulate the appetite. Be cautious when selecting a ginger tea, many brands will mix ginger with green or black tea leaves, which combat the purpose of the ginger tea.
Peppermint Tea
Mint is a known remedy for nausea and those suffering from stomach discomfort can get benefit both from drinking it and the soothing effects of its aroma. Mint is also an immune system booster. It is best to drink this tea following radiation.
Milk Thistle Tea
Milk thistle can be a powerful stimulant for the liver, which is the organ responsible for cleaning out toxins and waste from our blood, which means that it will help clear chemotherapy drugs out of our systems once they are no longer needed. It is also an effective anti-inflammatory. As a warning to cancer patients, there are certain cancers for which milk thistle tea is specifically prohibited, so check with your physician before adding this tea to your cupboard.
The current rate that women are being diagnosed with ovarian cancer must be contained, and women of all ages must remain knowledgeable and up-to-date on what can affect sustained health throughout their lives. Being more informed and knowledgeable regarding the facts of a condition such as ovarian cancer, or any other cancer, could potentially save thousands of lives in a given year. Be sure to consult your physician or gynecologist.
https://medlineplus.gov/ovariancancer.html
https://www.cancer.org/cancer/ovarian-cancer/about/what-is-ovarian-cancer.html
https://www.nhs.uk/conditions/ovarian-cancer/
http://ovarian.org/about-ovarian-cancer/what-is-ovarian-cancer
https://www.cdc.gov/cancer/ovarian/basic_info/index.htm
https://www.cancerresearchuk.org/about-cancer/ovarian-cancer
https://en.wikipedia.org/wiki/Ovarian_cancer